The world's first
lighting solutions
platform
SLE Smart Lighting Engineering is the world's first lighting solutions platform. We deliver complete smart lighting solutions and provide professional services for architects, lighting designers, project companies, suppliers, researchers and brands. We work in various applications such as retail, industry, street, office, education, and architectural lighting across Europe.
We offer the latest methodologies, and a variety of services and tools to our partners which make our innovative lighting solutions easy to sell, simple to implement and beneficial to use.
We provide support to our project partners through the complete value chain from acquisition to successful promotion of the project.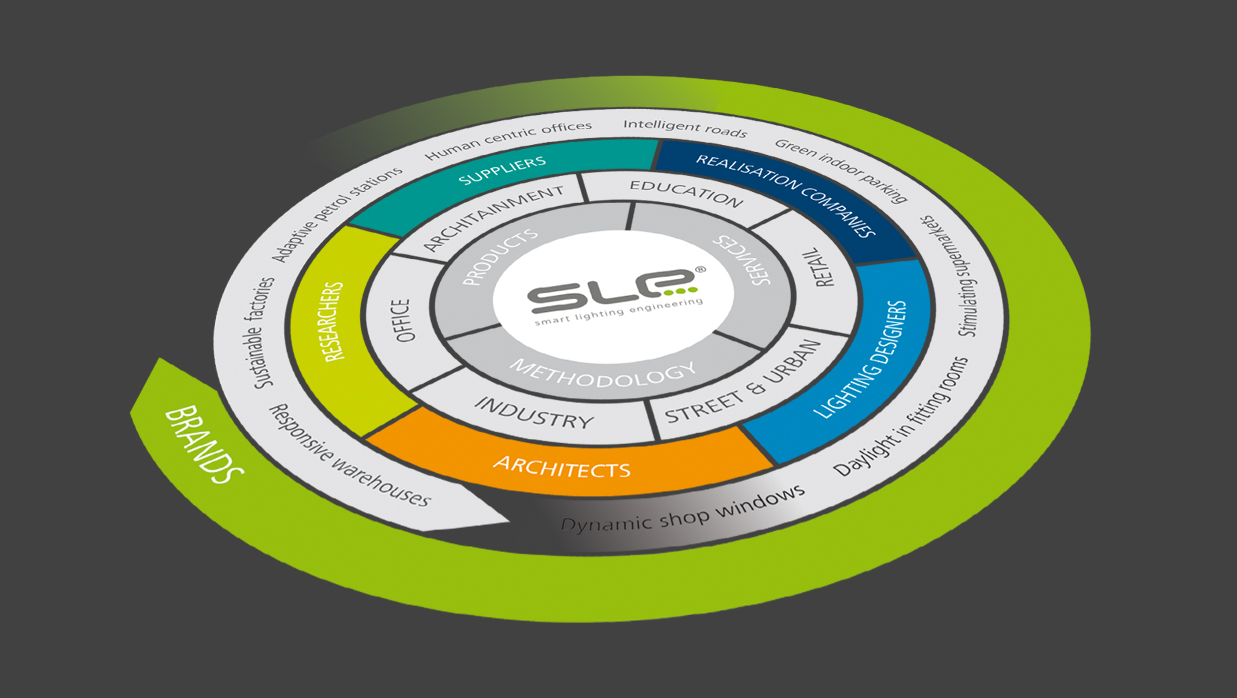 Architects
Choose from a wide range of state-of-the-art lighting concepts and control systems, and meet collaborative partners for completing your projects. Work with us during the process of planning and realisation to achieve the desired atmosphere. Our part is to support you in finding the best lighting solution using the latest technologies for your design.
Lighting designers
As a designer you can't exist without intelligent lighting solutions. We offer you a network of project partners, increase your visibility on the market, and keep you informed about new lighting trends and research results. Make all your work unique and benefit from an exclusive portfolio with additional project protection.
Realisation companies
Enjoy project security by being able to offer products, services and know-how that are unique in the market. Get your work noticed through our expansive communication network. Connect with the best suppliers, architects, designers and brands via the SLE Platform, and take advantage of the alliance to expand your portfolio of completed projects.
Suppliers
If you are a supplier for lighting projects, the SLE Platform can provide you the access to the European markets. You will benefit from an international network of potential partners and projects that are waiting for your product. Take the opportunity to get your products and solutions to the lighting market.
Researchers
Bring new technologies and your insights about the effect of light on our daily lives to the market together with SLE. The foundation for providing the best lighting solutions is to provide the latest innovations to the world. Let's develop new ideas together and find the best and most effective ways to implement them into real-world applications.
brands
The right lighting profoundly affects your customers' perception of your identity, values and products. Learn about light and the technologies on offer to significantly increase your success. We offer you a package from customised products and design concepts, to complete lighting solutions. Through our global partner network we can also guarantee the unified implementation of your branded design.
SLE is the answer if you are looking for a partner who...
…can provide you complete smart lighting solutions
…translates lighting to end-user friendly language
…helps you through customizations
…supports you during the entire project
…guarantees project protection through organized professional sales channels
…can support you also in international projects
…represents a gateway for new ideas and technologies
...grants you global access to the market
…gives you a complete business package for lighting projects
…gets the work done so you have time to concentrate on your customers
Join the SLE platform today!

Company presentation
Download our company presentation in PDF format.