Name: ESA Logistcs
Application: Industry
Segment: Logistics Hall
Location: Senec, Slovakia
Lighting design: SLE Studio - Peter Katreniak
Project Manager: SLE Studio - Nikola Šagát Turanová
Energy saving: 55%
CO2 reduction: 36.6t
ROI: 7.4 years
ESA Logistics promotes environmentally friendly approach to logistic solutions. SLE team of lighting experts added to this mission with ecologically sustainable lighting solution with lighting management system installed in the ESA Logistics halls in Senec. The solution has a positive effect on safety, performance and satisfaction of workers while the opportunity of smart controlling offers a great energy saving potential.
THE LIGHTING SOLUTION
The old system was composed of luminaires equipped with 243 fluorescent lamps with the overall power consumption of 126,707kWh. Yearly energy savings of the new lighting system reach as much as 55% while CO2 production decreased by 36.6 tonnes. These excellent numbers are achieved by the effective lighting solution proposed by the SLE team. It includes a lighting management system with five control units which can be remotely managed via the Internet.
See the reference pictures in the gallery:
LIGHTING MANAGEMENT SYSTEM
The system is divided into three parts:
The shelf area is composed of 39 small areas working in an automatic mode. The luminaires are preset to 10% intensity but when the motion sensors detect some movement, the luminaires increase their intensity to 100% in two seconds. If the sensors do not detect any movement for five minutes, they automatically decrease back to the level of 10% intensity.
Lighting in the loading area is fixed; once the luminaires turn on, their intensity will not change.
Manipulation area is set to a constant value of the light flux by the means of a daylight sensor. It sets up the optimal light level, adjusting it in accordance with the available natural light.
Comparison of the old lighting system with the new system by SLE: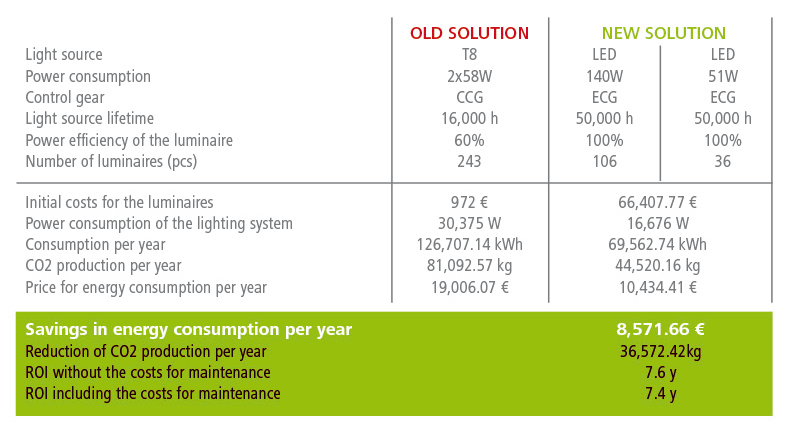 Graphic demonstration of the electric energy consumption

Graphic demonstration of the produced CO2

Applied services

Deprecated: Non-static method Bootstrap::getCurrentLanguage() should not be called statically, assuming $this from incompatible context in /home/html/sleprojects.com/__app/sleprojects/production/front/201608/application/views/default/component/services/detail.phtml on line 9

Deprecated: Non-static method Tx_Application_Bootstrap::getCurrentLanguage() should not be called statically, assuming $this from incompatible context in /home/html/sleprojects.com/__app/sleprojects/production/front/201608/application/Bootstrap.php on line 133