Name: Grafobal
Application: Industry
Segment: Factory
Location: Skalica, Slovakia
Lighting design: SLE Studio - Peter katreniak
LMS: SLE Studio
Project Manager: SLE Studio - Martina Jamrichová 
Energy saving: 35.1%
CO2 reduction: 156.9t 
ROI: 3.5 years

We have installed a new efficient lighting solution in two production halls of Grafobal branch located in Skalica. The light level ensures excellent illumination of task areas to support workers' comfort, performance, alertness, and overall wellbeing. To increase the energy saving, the solution includes also a lighting management system, which can control the light intensity according to different activities in manufacture areas.
THE LIGHTING SOLUTION
In the old lighting system, the luminaires both in the main hall and the storage area were equipped with fluorescent lamps with a power consumption of 2x40W and 1x36W in the area with lowered ceiling. Yearly power consumption of the 479 luminaires of the old system was 377,643kWh while the new system, consisting of 412 luminaires, consumes 35.1% less and the overall CO2 production have been reduced by almost 157 tonnes. The ROI in the solution is 3.5 year including the costs for maintenance.
The environmentally and financially effective solution is based on 100% power efficiency of the Tornado LED luminaires, low maintenance costs and considerable savings result also in the installed lighting management system.
BEFORE                                                                  AFTER

BEFORE                                                                   AFTER

LIGHTING MANAGEMENT SYSTEM
The lighting management system includes control units, motion sensors, light intensity sensors, and customised control system. The installation process of the solution was complemented with two lighting services: audit and certification.
The regulated management system has several considerable advantages:
-comfortable management of the system on all levels with intensity sensors, motion sensors, and remote control,
-adaptation to the nature of the activities performed by using scenic management,
-elimination of management errors caused by the human factor thanks to the fully autonomous system,
-energy savings and reduced CO2 production,
-flexible changes of the system properties.
Comparison of the old lighting solution with the new lighting solution by SLE: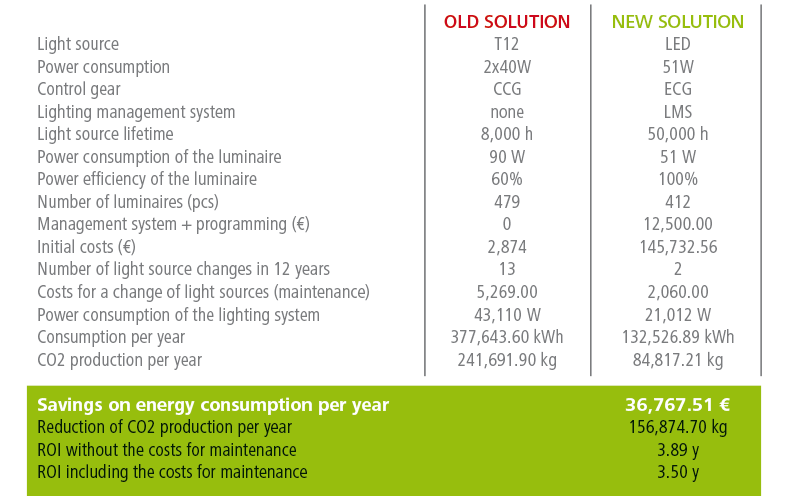 Graphic demonstration of the electric energy consumption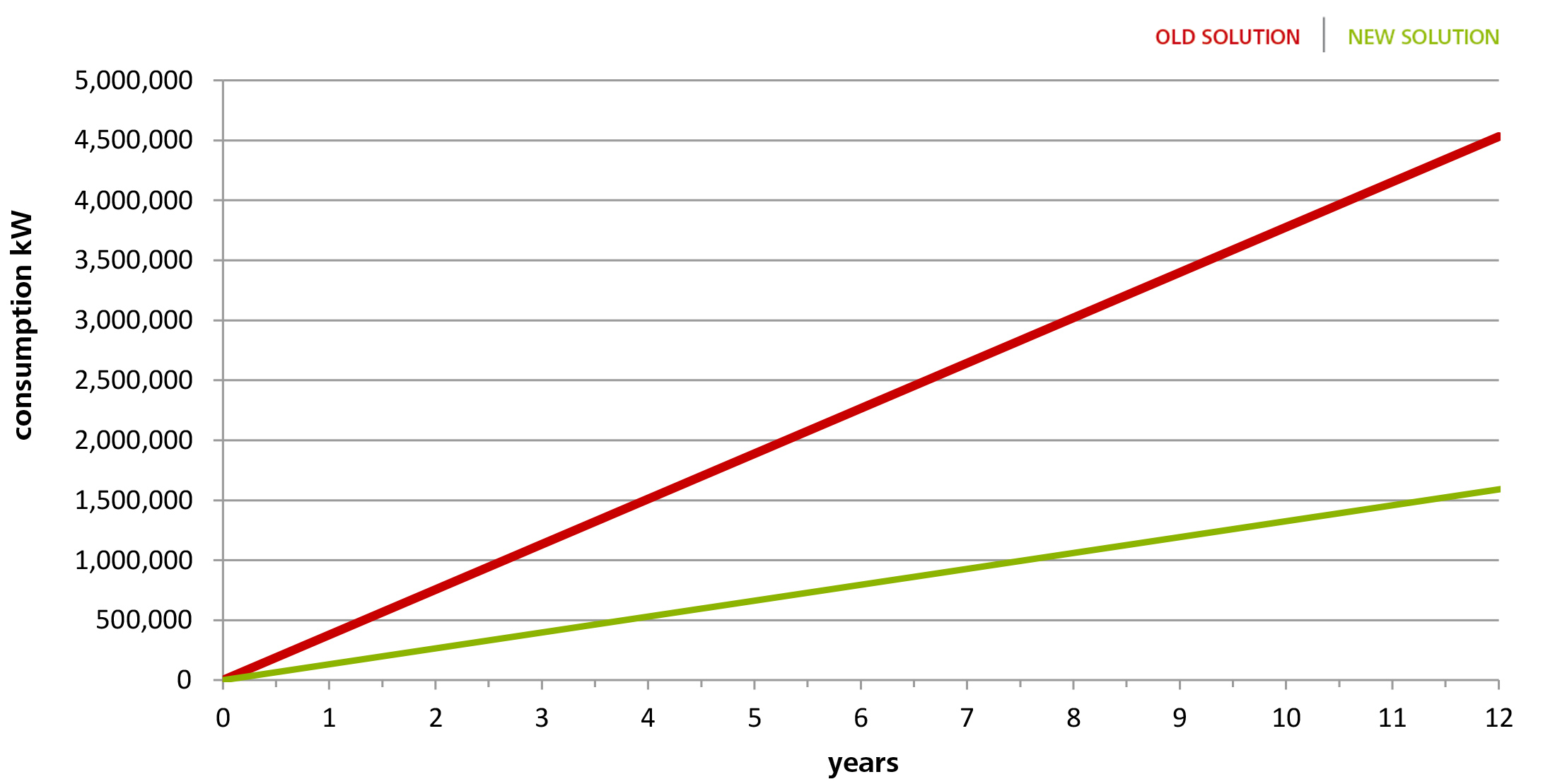 Graphic demonstration of the produced CO2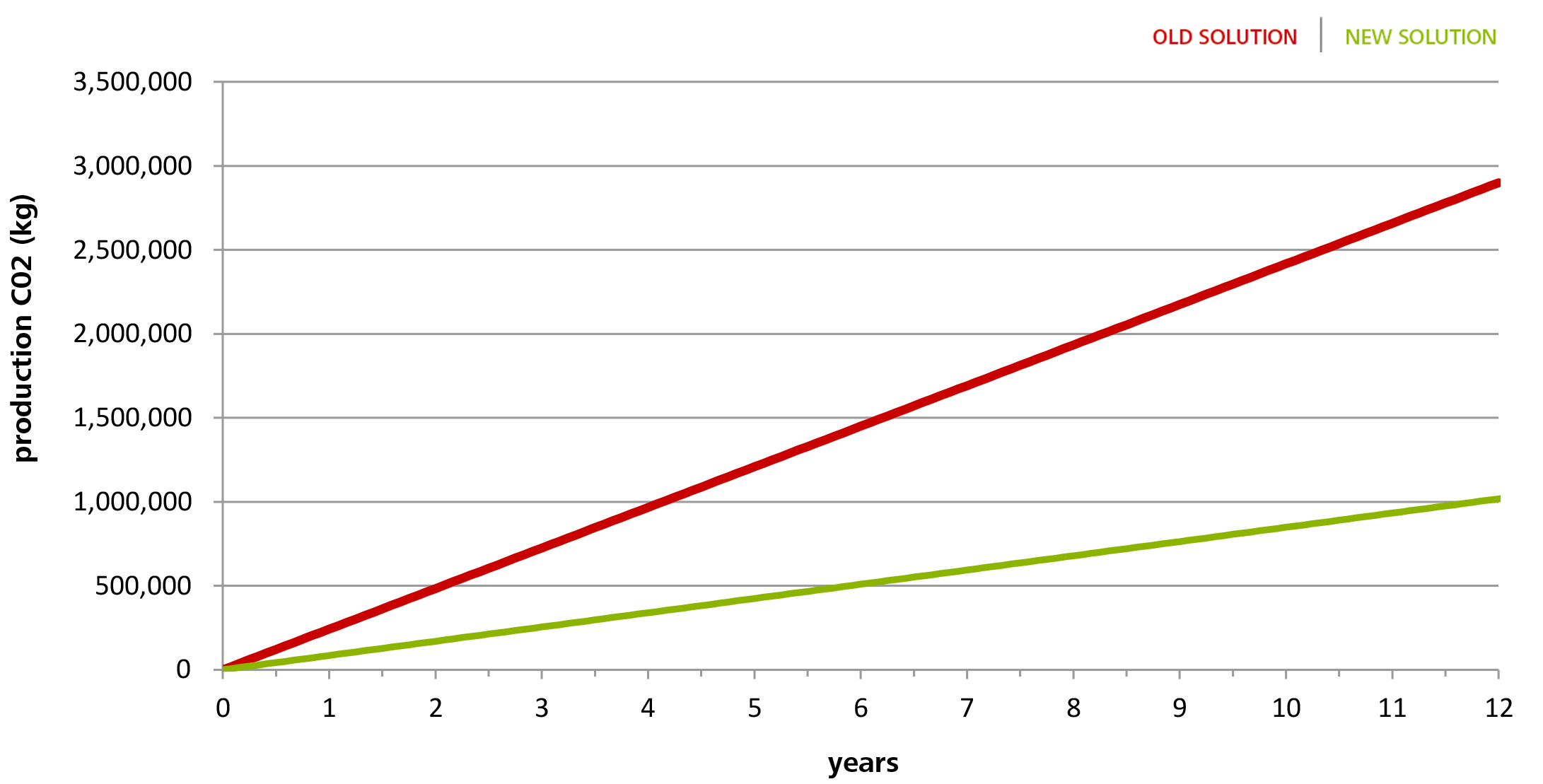 Check more pictures of the new lighting system in the gallery:
Applied services

Deprecated: Non-static method Bootstrap::getCurrentLanguage() should not be called statically, assuming $this from incompatible context in /home/html/sleprojects.com/__app/sleprojects/production/front/201608/application/views/default/component/services/detail.phtml on line 9

Deprecated: Non-static method Tx_Application_Bootstrap::getCurrentLanguage() should not be called statically, assuming $this from incompatible context in /home/html/sleprojects.com/__app/sleprojects/production/front/201608/application/Bootstrap.php on line 133