12.05.2017
Viliam Vanák: "I am working on one of the biggest lighting projects in Slovakia."
A prolific sales person and experienced business development manager gives his take on lighting of the Slovak National football stadium.
Viliam Vanák is a prolific sales person, experienced business development manager and a dedicated father to a five-year-old boy. Building up on his study of international trade in Moscow and the first-hand experience from the field, he quickly learnt how to pull the invisible strings of business sorcery to be in his element. Currently launching a completely new project division within the Grafobal Group, Viliam with his healthy attitude to competition and business strategy is set to become a name which you will recognise in the lighting business of the future.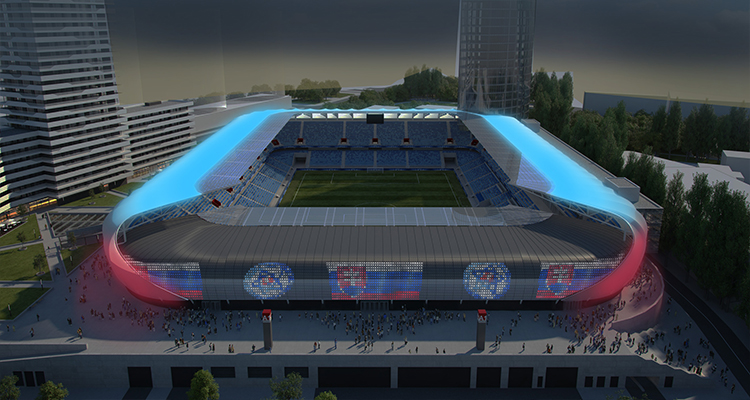 How did you get into lighting?
It was about 7 years ago when my friend asked me to join him in establishing a LED lighting brand. He had a considerable experience in lighting and a strong investor supporting him in this start-up. I got caught up by the idea of being part of a team which is at the beginning of something completely new.  I have spent several months visiting manufacturers and our future partners, absorbing all necessary information about lighting and LEDs in particular.
Do you have any experience with international business environment?
Sure. I have spent many years living abroad in the western and eastern part of Europe working in both purchase and sales departments. I always believed that the best way to do international business is to experience and understand both sides of the commerce.
Have you recently worked on any interesting project worth mentioning?
Past few months have been packed with interesting projects but the most important one for me personally is the Slovak National football stadium. Both for its complexity and for personal reasons.
My grandfather used to play soccer on that stadium more than half a century ago and I know it would mean a lot to him to see that it has got back its old glory.
How one gets the opportunity to work on such a great project?
I believe that everything is as it should be and everything is happening for a reason, so maybe my whole lighting career led me to this particular project.
What is special about illuminating a football stadium?
For sure it is its complexity. There are nearly all possible applications used, be it street lighting, underground parking, retail, office, architectural lighting, design luminaires, emergency, and, last but not least, illumination of the football field which needs to be designed to meet very strict norms and rules – in this case it is UEFA level A standards.
What were the requirements of the client? Which services did you provide to the client?
We need to prepare a very complex proposition not only for the stadium itself but also for the surrounding areas, a 22-floor tall office building, and a block of flats. Fully DMX controllable facade lighting and even design of a new luminaire which would meet the visual requirements of the main Architect are also part of the deal.
Which features of personality do you think are the most crucial for a sales person in the lighting business?
Assertiveness, but not the aggressive one, but rather a kind and calm sort of assertiveness. Then flexibility and, most importantly, eloquence and art of rhetoric, but this is more or less applicable to any business.
What do you enjoy the most about your work?  
First of all it is collaboration with my colleagues and teamwork. Secondly, it is the whole process of creating something unique and smart from the initial idea to realisation.
On the other side, what is the most challenging aspect of your job?
It depends on the type of projects but in general it is putting the pieces of puzzles together to achieve the required result.